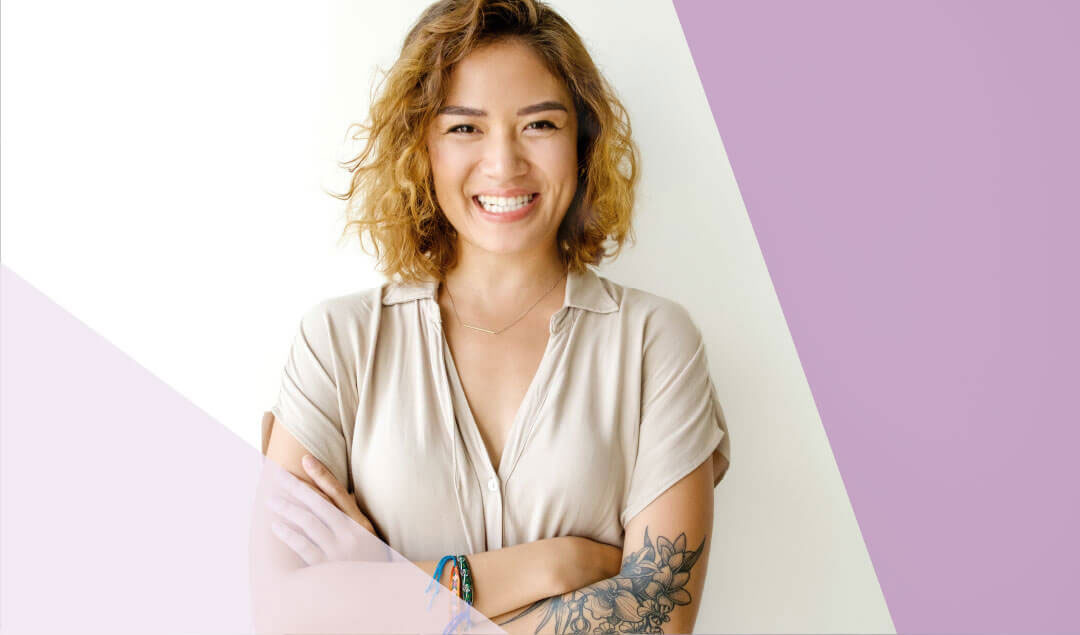 Where to buy
Emla can be purchased in-store at your local pharmacy or via UK-registered online pharmacies
Buy Emla numbing cream online
All pharmacy links from the Emla.co.uk website will take you to legitimate UK-registered online pharmacies.
The links below are provided as a resource to the viewer. You will leave www.emla.co.uk and enter a third-party website. Note that third-party websites are neither owned nor controlled by Aspen UK and we cannot accept responsibility for the content or services of these linked sites.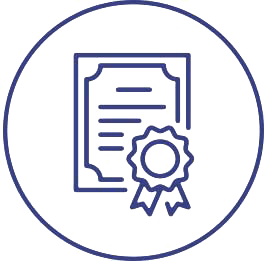 Always make sure that you buy a numbing cream that is licensed for sale in the UK.
Emla is a genuine, licensed numbing cream approved for sale in the UK. Unfortunately there are many unlicensed and fake medicines advertised for sale online to UK customers and numbing creams are no exception. Such products could be sold through online retailers or may be found through search engines. The adverts or websites may look authentic but are often not legitimate. Unlicensed or fake medicines may not have been manufactured safely and may contain ineffective or dangerous contents.
Which Emla numbing cream is right for you?
There are a range of packs available depending on what you wish to use Emla numbing cream for. Emla should be applied and covered with a suitable dressing about an hour before a procedure (30-60 mins when applying to the face) so that the cream is absorbed into the skin and not accidentally wiped off. Some packs have the right dressings included in them; others only contain a tube of cream.
Not sure which is the right Emla for you? Check out our useful guide below:


Emla Cream 30g tube without dressings


For numbing larger areas of skin (e.g. for tattoos or laser hair removal)
Dressings not included
Never use more than 60g (or two 30g tubes) for one session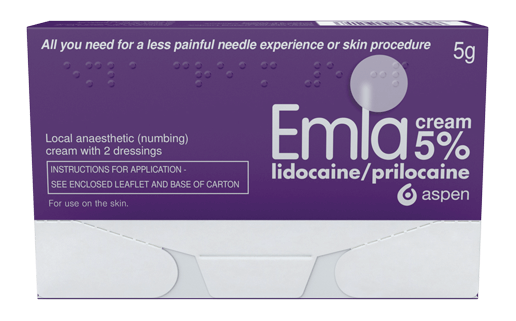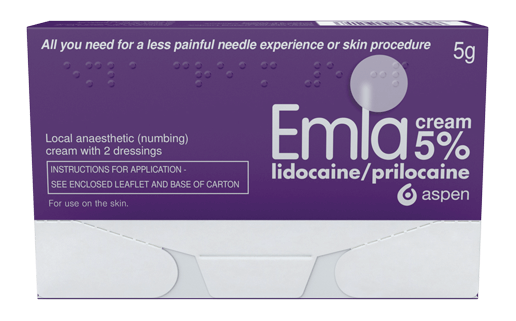 Emla Cream 5g tube with two dressings

Contains up to two applications
For numbing small areas of skin (e.g. for vaccinations or blood tests)
Includes two dressings
Emla Cream 5g tube without dressings


Contains up to two applications
For numbing small areas of skin where use of a dressing is not practical (e.g. around the lips or eyebrows)
Dressings not included (can be purchased separately if required)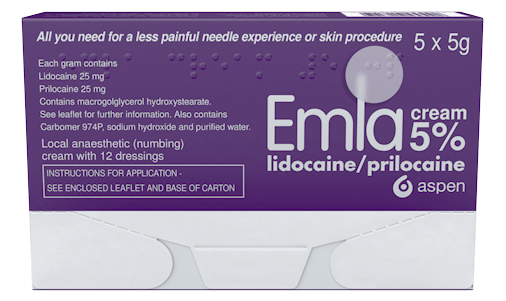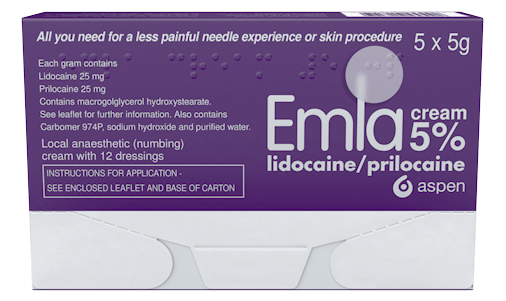 Emla Cream 5x5g tube with 12 dressings

Contains approximately 10 applications
For regular medical procedures (e.g. for injections, cannula insertions or blood tests)
Includes 12 dressings
FAQs
Get answers to the most common questions about Emla numbing cream.
Find out more

---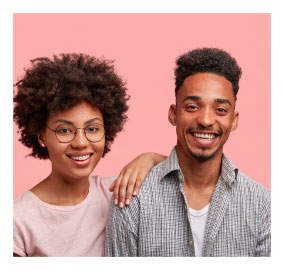 How to apply
Whether you're using Emla for a needle or laser procedure, we've got you covered.
Find out more